Look forward to some real ice driving action!
Due to the great response and demand of our recent Spirit of Speed Arctic programs in Levi, we have decided to offer additional dates for Arctic Control March 18-21 and March 21-24, 2022.
Are you in the mood for real ice driving action? Then join us and enjoy an arctic driving thrill you have not experienced before. Just a few days ago our guests shared an unforgettable time, adrenaline and endless smiles with us. It inspires us to not wait until next year but to create even more epic ice driving adventures this season!
Spirit of Speed Arctic is a 4-day winter driving program is of the greatest perfection and not comparable with any other offer you find! The experience includes the perfect combination of our unbreakable air-cooled Porsche 911 KALMAR RS with real World Rally Championship Tires, thrilling ice rally tracks, individual approach, small groups, maximized driving time, top-class chalet accommodation and special team spirit!
You don't just stay in any accommodation but in luxury Villas full of Northern spirit. After a long day on the track, you can enjoy the highest level of overnight stay – a level of accommodation that everyone is so positively surprised about when joining. Relax together with your fellow drivers while your private chef prepares your delicious local foods – pure definition of luxury and Arctic Wilderness.
Have a look.
View more impressions from our recent Spirit of Speed Arctic experiences on our social media pages under @kalmarbeyondadventure and @spiritofspeedbytomk or visit our Picture gallery.
Don't miss out to secure the seats for yourself! Watch Video
DISCOVER
YOUR NEXT ADVENTURE
MOROCCO
(30th March – 06th April, 2022)
Morocco is a place of spectacular natural scenery full of epic mountain ranges and desert! Let Beyond Adventure take you into areas you could not imagine you would reach – from highest Saharan dunes to the peaks of High Atlas.


BHUTAN
(06th – 13th May, 2022)
A spiritual Drive in the Himalayas – Discover the country using backroads to untouched villages while enjoying the most beautiful sights. Let yourself be surprised and expect the unexpected.
GEORGIA
(25th May – 02nd June, 2022)
An amazing country at the crossroads of Europe and Asia, where ancient meets modern. Here you find nonstop positive and welcoming hospitality. When adding the breathtaking landscapes and nature not spoiled by humans do make Georgia a must-see destination.


DENMARK GOURMET SPECIAL
(19th – 25th June, 2022)
Enjoy world-class food combined with an unusual visit to this fairytale country – home of the phenomena "hygge" – a unique state of mind which according to some can only be experienced here!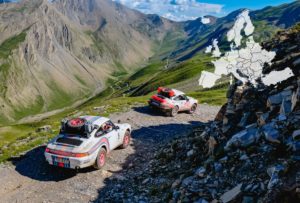 ALPS-CROSSING
(5th – 11th July, 2022)
(14th – 20th July, 2022)
Astonishing views, challenging gravel roads, inspiring places and a unique fleet of air-cooled Porsche 911s. The Alps-Crossing you never knew possible! Let Beyond Adventure take you to the new heights in the heart of Europe.

AFRICAN HIGHLANDS
(27th August – 05th September, 2022)
Welcome to the highlands of Africa – the home of the mountain gorillas, volcanoes, lakes and never-ending savannahs. This continent has a lot to offer!
FOLLOW US ON SOCIAL MEDIA
Disclaimer:
"Für den oben stehenden Beitrag sowie für das angezeigte Bild- und Tonmaterial ist allein der jeweils angegebene Nutzer verantwortlich. Eine inhaltliche Kontrolle des Beitrags seitens der Seitenbetreiberin erfolgt weder vor noch nach der Veröffentlichung. Die Seitenbetreiberin macht sich den Inhalt insbesondere nicht zu eigen."