LET'S GET STARTED!
Just yesterday have our drivers from Mexico, United Kingdom, Singapore and Netherlands arrived at our exceptional winter ice driving area to experience the best winter driver's training of their life with our Spirit of Spirit of Speed Arctic program! Our specially prepared air-cooled Porsche 911's are lined up, ready to go and looking beautiful. What could be better than start out the year and enjoying pure driving pleasure in the remoteness of Lapland 200 km north of the Arctic Circle far away and isolated from crowds and hectic world…
We are grateful to look ahead to a full Beyond Adventure schedule for 2022! Don't miss out and let us help you plan your 2022 filled with unforgettable driving adventures of a lifetime. This is now your opportunity to put yourself behind the steering wheel and discover destinations and experiences you never thought possible.
Join us in Morocco in March, driving through the epic mountain ranges of the High Atlas and into the challenging dunes of the mighty Sahara desert. Or in May if you prefer to expect the unexpected in stunning Georgia. Perhaps you'd prefer to navigate a 4×4 through the extraordinary, breath-taking, best-kept secret of the travel industry that is Bhutan in the majestic Himalayas.
These are just the start of many Beyond Adventures planned around the globe for 2022. Beyond Adventure creates exhilarating, unparalleled self-driving experiences that can be found nowhere else. We start where others stop.
DISCOVER
YOUR NEXT ADVENTURE HERE
MOROCCO
(30th March – 06th April, 2022)
Morocco is a place of spectacular natural scenery full of epic mountain ranges and desert! Let Beyond Adventure take you into areas you could not imagine you would reach – from highest Saharan dunes to the peaks of High Atlas.


BHUTAN
(06th – 13th May, 2022)
A spiritual Drive in the Himalayas – Discover the country using backroads to untouched villages while enjoying the most beautiful sights. Let yourself be surprised and expect the unexpected.
GEORGIA
(25th May – 02nd June, 2022)
An amazing country at the crossroads of Europe and Asia, where ancient meets modern. Here you find nonstop positive and welcoming hospitality. When adding the breathtaking landscapes and nature not spoiled by humans do make Georgia a must-see destination.
DENMARK GOURMET SPECIAL
(19th – 25th June, 2022)
Enjoy world-class food combined with an unusual visit to this fairytale country – home of the phenomena "hygge" – a unique state of mind which according to some can only be experienced here!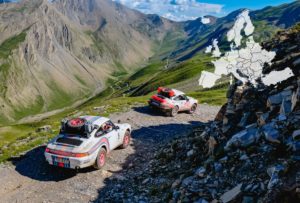 ALPS-CROSSING
(5th – 11th July, 2022)
(14th – 20th July, 2022)
Astonishing views, challenging gravel roads, inspiring places and a unique fleet of air-cooled Porsche 911s. The Alps-Crossing you never knew possible! Let Beyond Adventure take you to the new heights in the heart of Europe.
AFRICAN HIGHLANDS
(27th August – 05th September, 2022)
Welcome to the highlands of Africa – the home of the mountain gorillas, volcanoes, lakes and never-ending savannahs. This continent has a lot to offer!
FOLLOW US ON SOCIAL MEDIA
Disclaimer:
"Für den oben stehenden Beitrag sowie für das angezeigte Bild- und Tonmaterial ist allein der jeweils angegebene Nutzer verantwortlich. Eine inhaltliche Kontrolle des Beitrags seitens der Seitenbetreiberin erfolgt weder vor noch nach der Veröffentlichung. Die Seitenbetreiberin macht sich den Inhalt insbesondere nicht zu eigen."